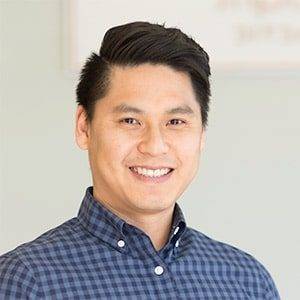 Chiropractor
KENNETH YONG GU KIM D.C.
Dr. Kenneth Yong Gu Kim grew up in South Korea. In high school, he seriously injured his low back while playing soccer. He was taken to a hospital where they took x-rays of his spine. To his surprise, his medical doctor pointed out a fracture, or spondylolisthesis, at his L5 vertebrae as well as scoliosis. Dr. Kenneth was told that he needed surgery to correct his spine issues.
Unwilling to accept this fate, Dr. Kenneth sought care at an oriental medicine clinic. Unbeknownst to him, this decision would change the course of his life. It was the first time he was introduced to the non-invasive, holistic HEALING properties of Chiropractic care.
After graduating Gimcheon College in South Korea, where he studied geriatric care management, he worked at an oriental medicine hospital as a manual therapist. After treating thousands of patients with various modalities that were effective, but not effective to his satisfaction, he remembered the power of the specific chiropractic care he received when he was younger. That's when and why he made the decision to move to the US to become a Doctor of Chiropractic.
Dr. Kenneth received his doctorate from Palmer College of Chiropractic in Davenport, Iowa, the place of origin of chiropractic. He is Certified in Postural Neurology by the American Posture Institute. He is also an Advanced Proficiency Rated doctor in the Activator Method. The Activator Method is one of the most widely researched chiropractic techniques and is very precise and gentle without any cracking, popping, or rotating of the spine. It can also be applied to soft tissue injuries in muscle and ligament.
Dr. Kenneth continuously devotes himself to expanding and improving his chiropractic knowledge and skills. He believes in the innate intelligence, which resides in all of our bodies, and its ability to help us function, heal, and achieve wellness. Dr. Kenneth loves to help his patients live their best lives.
Outside of the office, Dr. Kenneth loves spending time with his family, growing his Christian faith, sharpening his English language skills, and playing sports.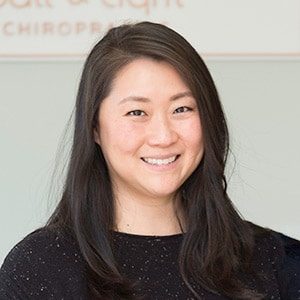 Chiropractor
Candace Kim D.C.
Hi, I'm Dr. Candace Kim. It's nice to meet you.
A little bit about me... I'm a wife, mom of two toddlers, chiropractor, and wellness advocate. I love talking about all things natural and non-toxic living! Chiropractic is included in that, of course.
I was born in Seoul, South Korea but grew up in San Antonio, TX, and moved to the DC metro area to work in children's advocacy with the National Center for Missing & Exploited Children. After almost ten years with The Center, I decided to pursue a second career in health care. So I applied to dental school. A few months before enrollment, I went to see a chiropractor for the first time to get my posture checked. The chiropractic message of balancing the spine and nervous system to activate healing from within resonated with me so much that I actually went to chiropractic school instead!
Choosing chiropractic was one of the best decisions of my life, not only because I met my husband, Dr. Kenneth Kim, in chiropractic school, but I learned how to help people regain and maintain their health. What greater possession do we have than our health?
When it comes to your health, I know how important it is to be able to trust your health care provider. You can rest assured I've put in the hard yards educating myself on the most evidence-based and effective techniques to be able to help you. I graduated Magna Cum Laude from Palmer College of Chiropractic as a Doctor of Chiropractic. I put in countless extra hours traveling the country to attend technique seminars. Following school, I have continued my training with the International Chiropractic Pediatric Association and the American Posture Institute in order to better serve my Springfield, VA community.
I often get asked how I came to name my practice Salt & Light Chiropractic. That's a sentimental one--before my father passed away, he told me to live my life by being like salt and light to others. I try to live by those words every day by having only the intention to give, serve, and love in my heart. My intention for you is to HEAL so that you can finally feel, look, and move better.
Monday
10:00am - 12:00pm
2:30pm - 6:00pm
---
Tuesday
2:30pm - 6:00pm
---
Wednesday
10:00am - 12:00pm
2:30pm - 6:00pm
---
Thursday
2:30pm - 6:00pm
---
Friday
10:00am - 12:00pm
2:30pm - 6:00pm
---
Saturday & Sunday
Closed